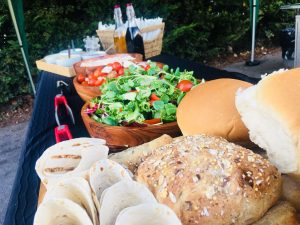 The Hog Roast Yeovil team are the local leading experts in hog roast catering. With 20 years' experience in the business and an extensive repertoire of menus suitable for all occasions, we are the number one choice for mobile event catering in Yeovil. We are perfect for both large and small events and we have the versatility to cater in any indoor venue or outdoor setting anywhere in Yeovil. If you want great quality hog roasts, along with a vast range of other menu options, all freshly prepared by expert chefs in your ideal location, the you have come to the right place.
Our Superior Ingredients
Every item on our menus is carefully selected from the best local suppliers, from our organic vegetables and dairy products, to our ethically-reared meat. We only work with food producers who have the highest standards and we know the origin of all of our ingredients. By being so discerning about our ingredients, we are able to provide the most flavoursome and succulent meat available and an impressive array of vibrant, tasty side dishes, vegetarian alternatives, starters and desserts, as well as our own individually handmade canapes. From the first course to the last, you can be assured that every morsel of food we present to you has been prepared by the most talented mobile chefs in Yeovil, using the best ingredients available.
Our Bespoke Service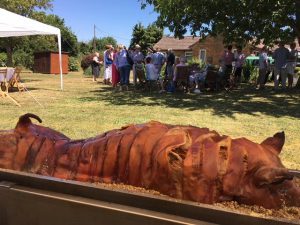 Our wide variety of menus are suitable for all special occasions and events, and here at Hog Roast Yeovil, we understand how important it is to serve our food in the most appropriate style for your event. This is why our event planners work closely with you and listen very carefully to your requirements, so we can provide you with a truly memorable dining experience. If you are hosting a corporate event or wedding reception in a formal setting, we can supply our own highly professional waiting and front of house staff for table service and to serve canapes and welcome drinks. Alternatively, if you would like a buffet for a birthday party, we can present your dishes on our own serving able for everyone to help themselves. We always adapt our service style to suit you and if you have any special requirements, all you need to do is let us know and we will take care of everything for you.
What are you waiting for, give us a call today to hear everything and more that you need to know about us and our services.